OFF-THE-SHELF READY TO GO
ABRASIVE COMPONENTS
Whether it's a Zinc Flange or Custom Stamping for the Abrasive Industry, Shakespeare will treat you like family. Our business has developed by superb quality and great customer service while utilizing the latest technologies. Thus, allowing us to not only save you money but meet the ever growing demands of the abrasive industry. With a full In-House Tool Room, Shakespeare Machine is capable of designing, building and producing any Abrasive Components that come our way. With over 50 years of experience, Shakespeare is able to ensure reliability on delivering parts when you need them the most.
Shakespeare Machine offers a wide selection of off-the-shelf abrasive components. Our personnel and modern equipment can design, manufacture and STOCK all of your components so that is ready for final assembly into your products.
Fully Automated Die Casting / Stamping Facility
75,000 sq. ft. of Production Services
Engineering Services
Prototype Development & Production
Fully / Semi Automated Die Casting and Metal Stamping Machines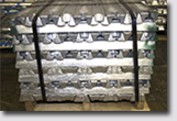 WE ONLY USE
VIRGIN ZAMAK 3
Only the upmost premium of Zinc is used to ensure the highest quality of product.